Prof. Alberto Bardelli
Professor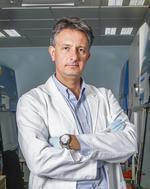 Contacts
0119933235
c/o Candiolo Cancer Institute IRCCS
SP 142 km 3,95 - 10060 Candiolo (TO)
At
Department of Oncology
Dipartimento di Oncologia
Corso di Laurea in Biotecnologie
Corso di Laurea Magistrale in Biotecnologie Mediche - Classe LM-9
Laurea Magistrale in Medicina e Chirurgia - sede di Torino
Master Program in Molecular Biotechnology
Programma MD-PhD della Scuola di Medicina
Dottorato in Medicina Molecolare
PhD in Complex Systems for Quantitative Biomedicine
PhD Programme in Complex Systems for Life Sciences (until 35th cycle)
Curriculum vitae
Curriculum Vitae (0.7 MB)
Selected publications
https://orcid.org/0000-0003-1647-5070
Research topics
After his undergraduate studies, he moved to the Ludwig Institute for Cancer Research in London where he obtained a Ph.D. in Biochemistry and Molecular biology from the University College London (UCL).
He moved to the United States in 1999 for a post-doctoral fellowship in the laboratory directed by Bert Vogelstein at the Howard Hughes Medical Institute, Johns Hopkins University (Baltimore). Here, professor Bardelli began studying the genomics of cancer. One of his most significant publications from that period identified for the first-time mutations in kinase genes (the kinome) that are associated with colorectal cancer (1).
As an independent investigator, he pioneered the combined use of genomics, patients' avatars and liquid biopsy to accurately predict tumor response and resistance to targeted agents in patients. Bardelli's group discovered that KRAS-, NRAS- and BRAF-mutated colorectal cancer patients lack response to anti-EGFR antibodies (2,3). His lab has systematically used genomic screens of CRC preclinical models to define new actionable targets in this tumor type. In the past five (ten?) years, the laboratory defined mutant BRAF (4), translocated TRK and ALK (5,6), amplified HER2(7), and combinatorial inhibition of EGFR and mutant KRAS p.G12C (8) as clinically-validated targets in colorectal cancer. These findings led to clinical trials aimed at targeting deregulated BRAF, NTRK, and HER2 in which Bardelli's unit was actively engaged. The HERACLES trial was a paradigmatic example of these activities (9).
His work also led the development of diagnostic tests, based on the pioneering use of liquid biopsies (10). He showed that the analysis of circulating tumor DNA (liquid biopsies) allows longitudinal monitoring of tumor evolution and resistance to targeted therapies. The Bardelli's lab was the first to pinpoint the emergence of KRAS/NRAS mutations in the blood of patients during EGFR blockade (11,12). These discoveries represent the first example of personalized therapies for colorectal cancer patients (13,14). Moreover, the efficacy of this promising approach in driving clinical decision-making for the treatment of colorectal cancer patients is currently being tested in the CHRONOS trial (https://www.clinicaltrialsregister.eu/ctr-search/trial/2016-002597-12/IT), where the Bardelli team has a pivotal role.
The hype generated by the so-called personalized oncology, based on the use of targeted therapies in molecularly stratified patient populations, was soon counteracted by the awareness that in nearly all patients, treatments are only transiently effective due to onset of secondary resistance. The Bardelli lab defined several mechanisms of acquired resistance, including elucidation of how CRC escape from EGFR, BRAF, TRK, and HER2 blockade. Genetic tracking of cancer cell populations showed how the development of resistance can be restrained in vitro and in vivo. For example, we recently reported that dependency on the WNT/APC/β-catenin signaling axis, an ancestral CRC oncogenic event, is maintained through development of resistance to multiple targeted therapies. These results suggest the use of trunk mutations as targets to restrain, or possibly prevent, the emergence of resistance in CRC (15).
Again, liquid biopsies can be used to monitor clonal evolution and tumor heterogeneity, and to intercept the emergence of resistant clones non-invasively in patients (11). Recent studies from the Bardelli team demonstrated that analysis of ctDNA is able to detect heterogeneous mechanisms of resistance to targeted therapies in CRCs, and that this approach can be used for the longitudinal follow up of patients (11,12,16,17). Specifically, we optimized technologies (double DNA barcoding) to analyze with high sensitivity plasma ctDNA thus revealing detailed molecular maps of resistance mechanisms (7).
Understanding how tumors evolve heterogeneous mechanisms of acquired resistance to targeted therapies is crucial in order to find effective strategies to prolong treatment efficacy and possibly prevent tumor relapse. Recently, the Bardelli Lab focused on the study of drug-tolerant persister cells, which are cancer cells that survive to targeted agents through non-genetic mechanisms, and maintain a reservoir from which genetic drivers of resistance eventually emerge (18). Inspired by the notion that bacteria exposed to antibiotics activate a stress response (called "adaptive mutability") that leads to increased mutagenesis, ultimately fueling antibiotic-resistance, the Bardelli lab discovered that colorectal cancer cells activate a similar response under therapeutic stress (18,19). Indeed, in a recent study they reported that cancer cells treated with targeted therapies downmodulate several DNA repair mechanisms, and switch from a high-fidelity to an error-prone DNA replication system. This, in turn, creates a permissive milieu which leads to increased mutability, which has been observed both in cells and in patient-derived samples obtained during treatment with targeted agents (19).
Extensive efforts have been placed at developing drugs capable of restoring the function of tumor suppressor proteins in the hope that they could act as anticancer agents. Our data indicate that permanent inactivation (rather than reactivation) of certain tumor suppressors involved in DNA repair could instead be pursued for therapeutic purposes (20). Specifically, Bardelli's studies suggest that targeting genes involved in DNA mismatch repair pathway facilitates the acquisition of neoantigens. The latter can be recognized by the immune system and restrict cancer growth (20,21).
Overall, Bardelli has authored more than 250 scientific articles of which over 100 as an independent investigator.
Alberto Bardelli was funded by Programma PON (www.ponricerca.gov.it) and the Project BiLiGeCT* is listed in the Heath macro-areas under Horizon 2020 program. The whole duration of the project is established in 30 months and administrative details are reported below:
Funding Body: PON "RICERCA E INNOVAZIONE" 2014 - 2020 E FSC
Project identification: ARS01_00492
Project title: BiliGeCT - Biopsie liquide per la Gestione Clinica dei Tumori
Funded Budget: 814.286,30 € (UNITO beneficiary)
To challenge the dynamic and molecular evolution of the cancer, the Project BiLiGeCT proposes the approach of liquid biopsy to monitor molecular changes (and implement the therapeutic possibilities) throughout the course of the disease. The project involves the development and validation of advanced diagnostic technologies to analyze both circulating free DNA (cfDNA) in its tumor component (ctDNA).
Alberto Bardelli at UNITO has more than 10 years of experience in cancer research and liquid biopsy, especially in colorectal cancer (CRC); this expertise addresses the aim of the project and allows the development of precision medicine also for other type of cancer as planned in the project. UNITO is carrying out the research activity in collaboration with IOM, other beneficiary of the project, performing ddPCR analysis on cfDNA from CRC patients.
*link to project website: https://www.cogentech.it/BiLiGeCT.php

References
Bardelli A, Parsons DW, Silliman N, Ptak J, Szabo S, Saha S, et al. Mutational analysis of the tyrosine kinome in colorectal cancers. Science 2003;300(5621):949 doi 10.1126/science.1082596.
Benvenuti S, Sartore-Bianchi A, Di Nicolantonio F, Zanon C, Moroni M, Veronese S, et al. Oncogenic activation of the RAS/RAF signaling pathway impairs the response of metastatic colorectal cancers to anti-epidermal growth factor receptor antibody therapies. Cancer Res 2007;67(6):2643-8 doi 10.1158/0008-5472.CAN-06-4158.
Di Nicolantonio F, Martini M, Molinari F, Sartore-Bianchi A, Arena S, Saletti P, et al. Wild-type BRAF is required for response to panitumumab or cetuximab in metastatic colorectal cancer. J Clin Oncol 2008;26(35):5705-12 doi 10.1200/JCO.2008.18.0786.
Prahallad A, Sun C, Huang S, Di Nicolantonio F, Salazar R, Zecchin D, et al. Unresponsiveness of colon cancer to BRAF(V600E) inhibition through feedback activation of EGFR. Nature 2012;483(7387):100-3 doi 10.1038/nature10868.
Medico E, Russo M, Picco G, Cancelliere C, Valtorta E, Corti G, et al. The molecular landscape of colorectal cancer cell lines unveils clinically actionable kinase targets. Nature Communications 2015;6 doi 10.1038/ncomms8002.
Russo M, Misale S, Wei G, Siravegna G, Crisafulli G, Lazzari L, et al. Acquired Resistance to the TRK Inhibitor Entrectinib in Colorectal Cancer. Cancer Discov 2016;6(1):36-44 doi 10.1158/2159-8290.CD-15-0940.
Siravegna G, Lazzari L, Crisafulli G, Sartore-Bianchi A, Mussolin B, Cassingena A, et al. Radiologic and Genomic Evolution of Individual Metastases during HER2 Blockade in Colorectal Cancer. Cancer Cell 2018;34(1):148-62.e7 doi 10.1016/j.ccell.2018.06.004.
Amodio V, Yaeger R, Arcella P, Cancelliere C, Lamba S, Lorenzato A, et al. EGFR Blockade Reverts Resistance to KRAS. Cancer Discov 2020;10(8):1129-39 doi 10.1158/2159-8290.CD-20-0187.
Sartore-Bianchi A, Trusolino L, Martino C, Bencardino K, Lonardi S, Bergamo F, et al. Dual-targeted therapy with trastuzumab and lapatinib in treatment-refractory, KRAS codon 12/13 wild-type, HER2-positive metastatic colorectal cancer (HERACLES): a proof-of-concept, multicentre, open-label, phase 2 trial. Lancet Oncol 2016;17(6):738-46 doi 10.1016/S1470-2045(16)00150-9.
Diaz LA, Bardelli A. Liquid biopsies: genotyping circulating tumor DNA. J Clin Oncol 2014;32(6):579-86 doi 10.1200/JCO.2012.45.2011.
Misale S, Yaeger R, Hobor S, Scala E, Janakiraman M, Liska D, et al. Emergence of KRAS mutations and acquired resistance to anti-EGFR therapy in colorectal cancer. Nature 2012;486(7404):532-6 doi 10.1038/nature11156.
Siravegna G, Mussolin B, Buscarino M, Corti G, Cassingena A, Crisafulli G, et al. Clonal evolution and resistance to EGFR blockade in the blood of colorectal cancer patients. Nat Med 2015 doi 10.1038/nm.3870.
Siravegna G, Marsoni S, Siena S, Bardelli A. Integrating liquid biopsies into the management of cancer. Nat Rev Clin Oncol 2017;14(9):531-48 doi 10.1038/nrclinonc.2017.14.
Di Nicolantonio F, Vitiello PP, Marsoni S, Siena S, Tabernero J, Trusolino L, et al. Precision oncology in metastatic colorectal cancer - from biology to medicine. Nat Rev Clin Oncol 2021;18(8):506-25 doi 10.1038/s41571-021-00495-z.
Russo M, Lamba S, Lorenzato A, Sogari A, Corti G, Rospo G, et al. Reliance upon ancestral mutations is maintained in colorectal cancers that heterogeneously evolve during targeted therapies. Nature Communications 2018;9(1):2287 doi 10.1038/s41467-018-04506-z.
Van Emburgh BO, Arena S, Siravegna G, Lazzari L, Crisafulli G, Corti G, et al. Acquired RAS or EGFR mutations and duration of response to EGFR blockade in colorectal cancer. Nat Commun 2016;7:13665 doi 10.1038/ncomms13665.
Russo M, Siravegna G, Blaszkowsky LS, Corti G, Crisafulli G, Ahronian LG, et al. Tumor Heterogeneity and Lesion-Specific Response to Targeted Therapy in Colorectal Cancer. Cancer Discov 2016;6(2):147-53 doi 10.1158/2159-8290.CD-15-1283.
Russo M, Sogari A, Bardelli A. Adaptive Evolution: How Bacteria and Cancer Cells Survive Stressful Conditions and Drug Treatment. Cancer Discov 2021;11(8):1886-95 doi 10.1158/2159-8290.CD-20-1588.
Russo M, Crisafulli G, Sogari A, Reilly NM, Arena S, Lamba S, et al. Adaptive mutability of colorectal cancers in response to targeted therapies. Science 2019;366(6472):1473-80 doi 10.1126/science.aav4474.
Germano G, Lamba S, Rospo G, Barault L, Magrì A, Maione F, et al. Inactivation of DNA repair triggers neoantigen generation and impairs tumour growth. Nature 2017;552(7683):116-20 doi 10.1038/nature24673.
Germano G, Lu S, Rospo G, Lamba S, Rousseau B, Fanelli S, et al. CD4 T Cell-Dependent Rejection of Beta-2 Microglobulin Null Mismatch Repair-Deficient Tumors. Cancer Discov 2021;11(7):1844-59 doi 10.1158/2159-8290.CD-20-0987.
Academic bodies
Office hours
Previo appuntamento telefonico e/o e-mail