Prof. Rino Rappuoli
Tutor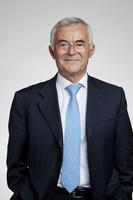 Contacts
Fondazione Toscana Life Sciences
Via Fiorentina, 1
53100 Siena – ITALIA
At
Dottorato in Sistemi Complessi per le Scienze della Vita (fino al ciclo 35) - PhD Programme in Complex Systems for Life Sciences (until 35th cycle)
PhD Programme in Complex Systems for Life Sciences (until 35th cycle)
Research topics
Rino Rappuoli is Chief Scientist and Head External R&D of GSK Vaccines in Siena and Professor of Vaccines Research at Imperial College London. Previous professional experiences as: Head of Vaccine R&D at Novartis, CSO at Chiron Corporation and Head for R&D at Sclavo. He obtained a PhD in Biology at the University of Siena and carried out research activities as visiting scientist at Rockefeller University and Harvard Medical School.
He is a member of the US National Academy of Sciences (NAS), the European Molecular Biology Organization (EMBO) and the Royal Society of London. Honours: the Paul Ehrlich and Ludwig Darmstaedter Prize, the Gold Medal from the President of the Italian Republic "On Public Health Merit", the Albert B Sabin Gold Medal, the Canada Gairdner International Award and the European Inventor Award for Lifetime Achievement. He was named the third most influential person in the world in the field of vaccines (Terrapin). He has published over 690 papers in peer-reviewed international scientific journals.
He has pioneered innovative scientific paradigms such as: genetic detoxification; cellular microbiology; reverse vaccinology; pangenome. Vaccines developed and already introduced on the market: acellular vaccine against whooping cough; the first conjugated vaccine against meningococcus C; MF59, the first adjuvant for vaccines after aluminium salts; the vaccine against meningococcus B; CRM197 used as carrier in many conjugated vaccines.
Dr. Rappuoli is among the world leaders committed to global health improvement and sustainability.